---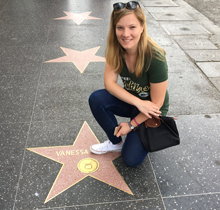 Hellllllo,
I'm good but it is a little cold here. The Ellen Show was amazing and our special guest was Julie Bowen from Modern Family.
School here is really confusing and sooooooo different, but everything is fine. I have a lot of friends and it is nice to talk to them and meet them after school or on the weekend.
I'm really happy to be on the softball team. I already learned how the rules are and how to play a game. In my opinion, I'm good for a beginner and the coaches are happy that I learn fast how to play the game.
I'm happy that I have family Newman as my host family. My host dad is practicing with me for softball and it is a lot of fun.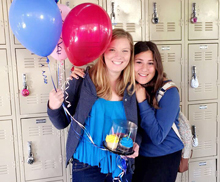 Zoe, my host sister from Luxemburg and I, we have sometimes little fights or problems, but we clear them right away, just like real sisters.I'll be in Florida for a few days for Thanksgiving break but I'll be back for thanksgiving and black friday in California to celebrate with my host family. I'm so excited for black Friday, because I have never been in the US during black friday. Shopping here is amazing, but a little expensive.
Best regards
Vanessa